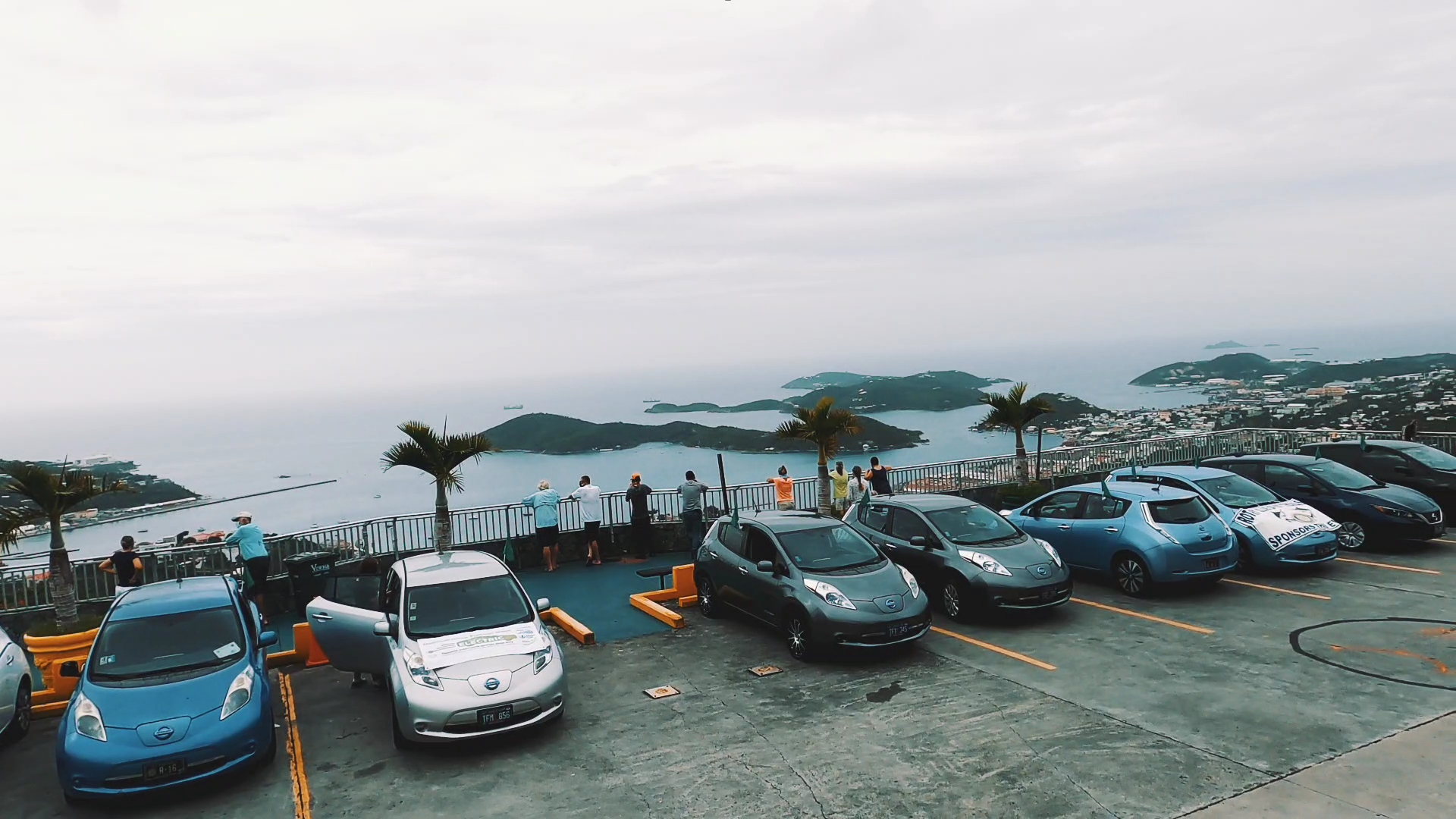 Equitable E-Mobility Rebate Program Coming Soon!
The VIEO is happy to announce the upcoming launch of the Equitable E-mobility Rebate program for new and used Class 2 & 3 Battery Electric Vehicles (BEV).   This rebate is designed to help offset the initial cost associated with the purchase of an EV and to help with the shipping cost of bringing one to the territory.
While we are getting ready for the official launch please visit the Cars.com buying guide to learn more about what is available in the market.
In addition to the below rebate amounts some vehicles may also qualify for Tax Credits through the IRS (click here to visit the tax credit eligibility landing page).
Rebate Overview
$5,000 rebate for approved new vehicle rebate
$3,000 rebate for approved used vehicle rebate

Additional $2,000 on used vehicles for qualifying Low to moderate income Virgin Islanders
Program Requirements:
Be a resident of the US Virgin Islands or a US Virgin Islands small-business, non-profit, public-sector entity, located and licensed to operate in US Virgin Islands. Proof of US Virgin Islands residency is required to complete a VIEO EV Rebate application.
Be a purchaser of a new or used eligible Battery Electric Vehicle (BEV) purchased at a licensed Automobile Dealership in the Virgin Islands or at a qualified licensed Out-Of-Territory dealership, with a final purchase price at or below the final sales and purchase price agreement of $65,000.00† for new vehicles, and $40,000.00‡ for used vehicles with under 20,000 miles.
† $65,000.00 price cap does not include taxes, registration fees, delivery fees, incentives, or rebates, etc.
‡ $40,000.00 price cap does not include taxes, registration fees, delivery fees, incentives, or rebates, etc.
Applications for used EVs that are within a maximum of four (4) model years old will be deemed eligible. For instance, in the year 2023, EV Rebate applications spanning model years 2019 through 2023 will be considered valid. Similarly, in 2024, EV Rebate applications encompassing model years 2020 to 2024 will be deemed acceptable, and this pattern will persist.
 Rebate Limitations:
VIEO EV Rebate applications are limited to one (1) application per household (i.e., individuals) and two (2) applications per business entity(i.e., small-business, non-profit, public-sector entity).
You are not to make or allow any modifications to the vehicle's emissions control systems, hardware, software calibrations, or hybrid system.
Rebates will be distributed on a first-come, first-served basis and issued to qualifying Rebates are subject to availability of funds through the SEPBIL Grant EE0010105, VIEO EV Rebate Program.
Electric Vehicle Owner Testimonials
Deshane Scotland Phillips – BMW i.4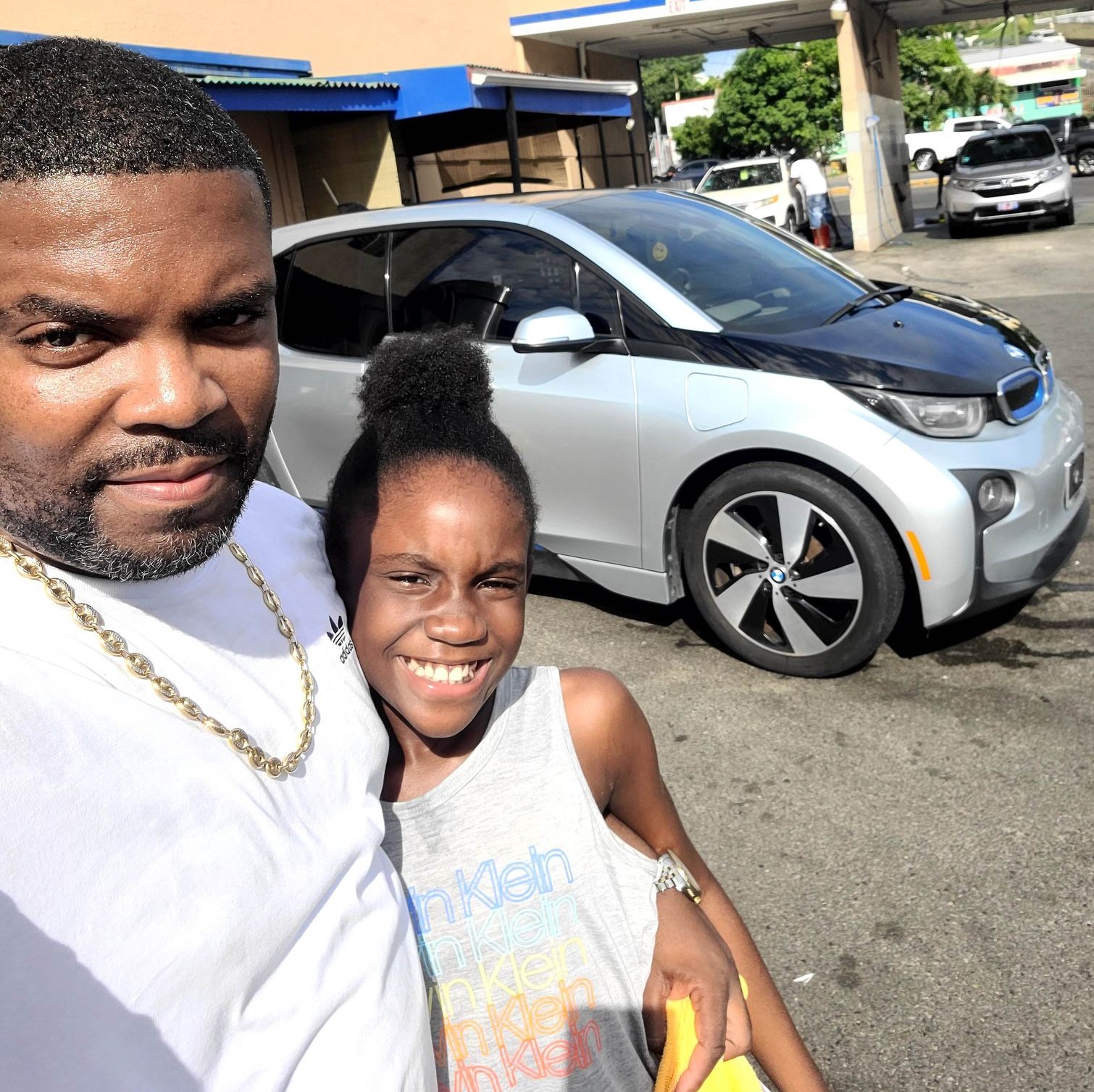 "I am not selling my lil BMW electric car for NO ONE!
I only realized today how spoiled I have been over the past 5 months with this car! I decided to drive my gas car for two days, and I ended up putting in $60 of gas vs. driving on electric for a week before having to charge up again. Mind you, my bill from WAPA has only gone up by $38 a month! DO THE MATH!
ELECTRIC IS THE FUTURE!…. I'm KEEPING HER!… My daughter Demiah loves it too. She calls it a "Silent Bully" because how it easily passes all the loud aggressive cars"
George and Cecile Harrington – Toyota Rav 4 EV
"100% powered by the Caribbean sun!  Solar power since 2013.  EVs since 2017.  Doing our part to keep the USVI's rating as the best air quality in the world!"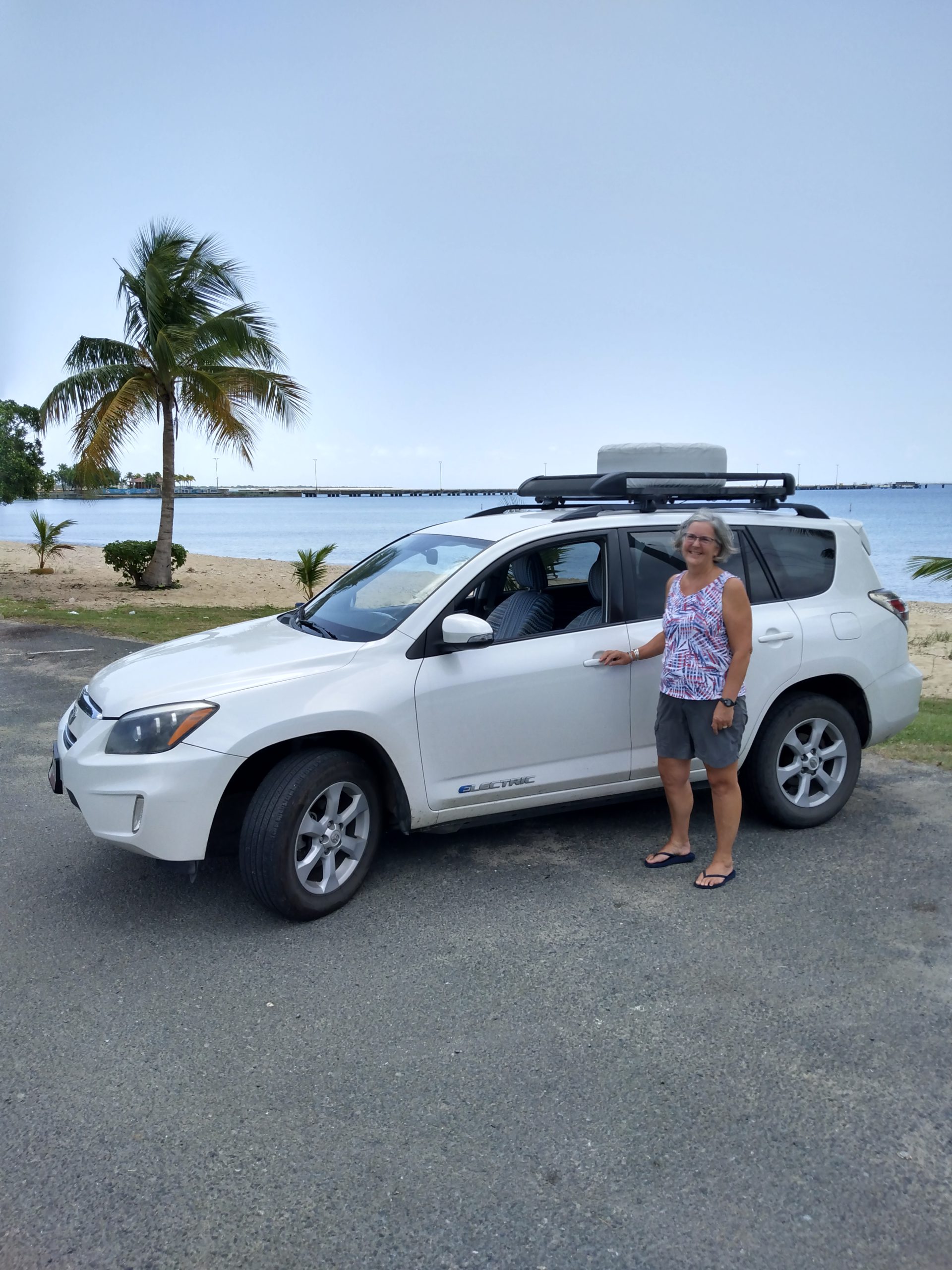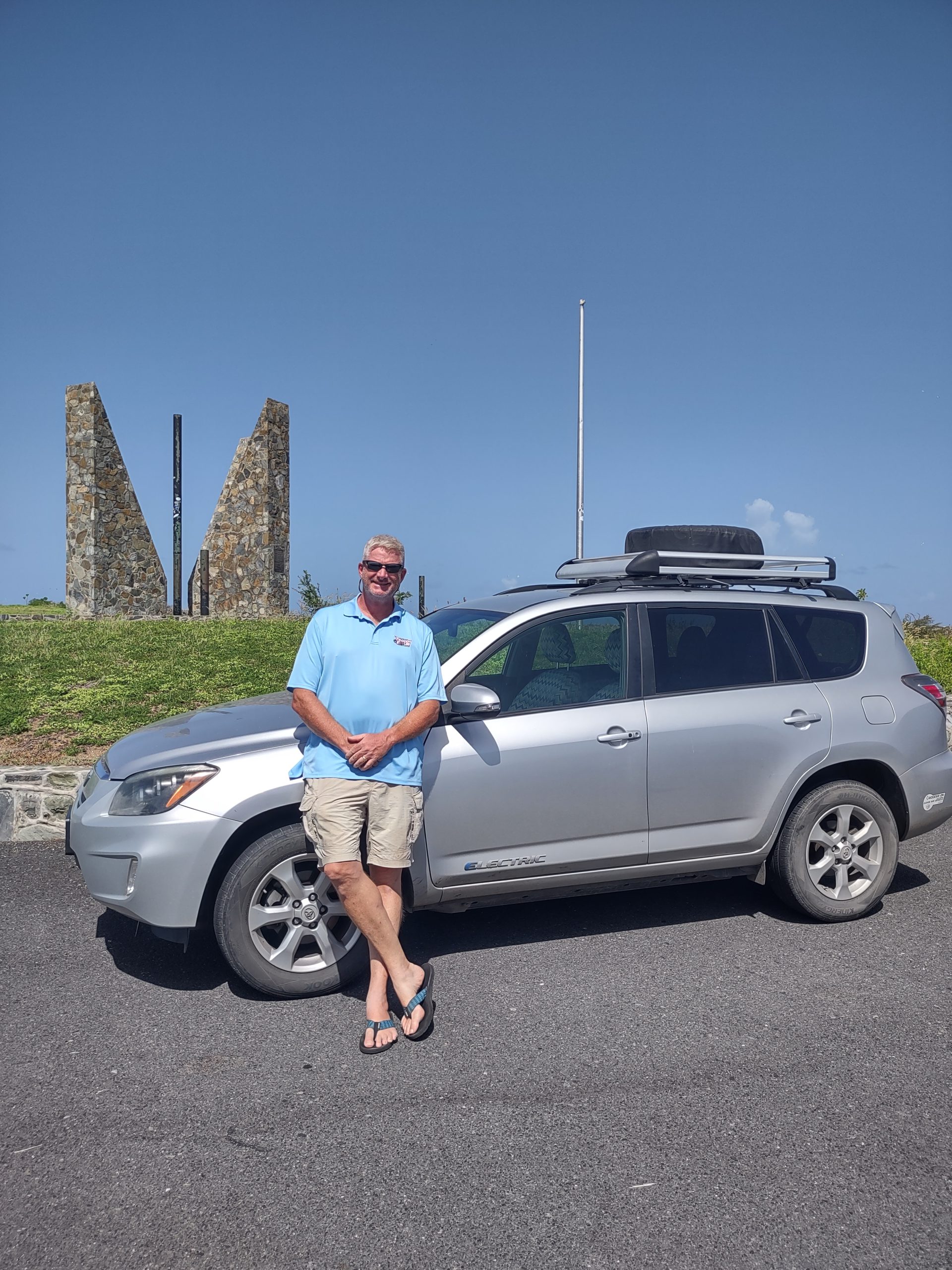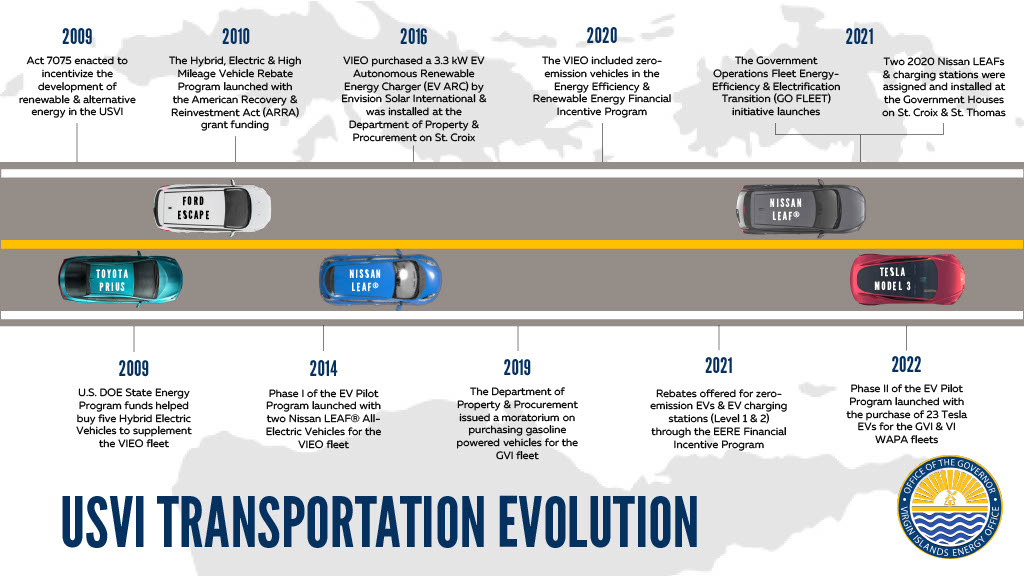 Electric Vehicle Mandates According to Act 7075
Act 7075 set a goal to achieve the territory's renewable energy potential that would support reaching the renewable energy & energy efficiency goal of 60% by 2025.
Title 12 Chapter 23 Subchapter 3 1129
Section D states
"

(1) Within 2 years from the effective date of this chapter, the Virgin Islands Energy Office in conjunction with the Department of Property and Procurement shall establish an Energy-Efficient Fleet Management Plan with plans for the acquisition of energy-efficient government fleet of vehicles, consisting of hybrid vehicles, electric vehicles, alternative fuelled vehicles, or vehicles within the top one-fifth of the most energy efficient vehicles in their class. The plan must require that within 10 years from the enactment of this chapter, the plan must be implemented throughout all departments and agencies of the Government of the Virgin Islands.

(2) All vehicles purchased after the enactment of this chapter must meet minimum fuel efficient and environmental impact national standards, as regulated by the class of vehicle.
Vehicle Electrification in the Virgin Islands
The United States Virgin Islands (USVI) Transportation Electrification Roadmap (Roadmap) outlines actions that support the accelerated adoption of plug-in electric vehicles (EVs) throughout the territory. Electrifying transportation provides many benefits for residents including reduced costs, improved vehicle reliability and air quality, and an opportunity for a more stable grid.
Click here or on the image  of the Electrification Roadmap to download a copy 
Electric Vehicle Charging
A strategic deployment of Charging Infrastructure is critical to the ensuring the sustainability of the territory's Transportation Electrification goals. Through federal funding from the US Department of Energy and Department of the Interior the Virgin Islands Energy Office has already begun identifying and deploying a network of Level 2 charging stations across all three islands. The VIEO has been working closely with VIWAPA to identify charging station locations that offer high utilization and low-cost installation to ensure charging access is available from Frederiksted to Point Udall and from Bordeaux to Coral Bay.